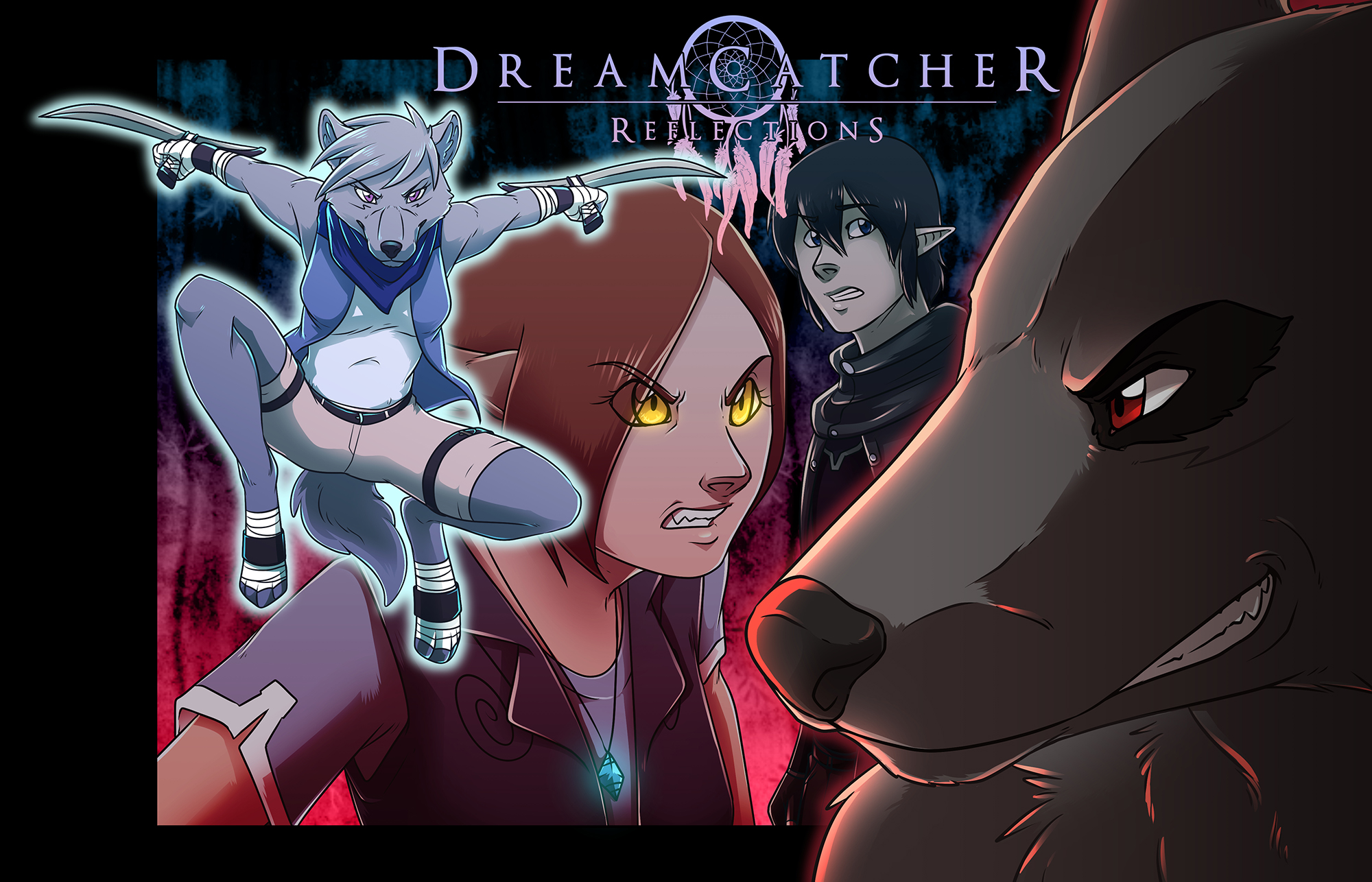 DreamCatcher: Reflections, Chapter 5
Riza Wolfe is the kind of person often referred to as a daydreamer. With her high school days approaching an end quicker than she would like, and the threat of a mundane adult life looming over her, she's always wondering if there's something more out there.
As it turns out, there is.
One day, Riza receives an unassuming dream catcher as a gift, and soon after finds herself following a character she thought she'd made up through a mysterious nexus realm and into a parallel world, where she is supposedly one of seven "Dreamers" of legend. She gets what she's always wanted–an adventure, and a greater purpose…sort of. The problem is, no one seems to know exactly why the Dreamers are there, just that means something very, very bad is coming. It's up to Riza, her new werewolf guardian, Luna, and the assortment of companions they collect along the way to unite with the other Dreamers, and figure out why they were summoned…before it's too late.
This is Chapter 5 of the series! If you're new, start with Chapter 1 here first.
In this installment, former partners face off, Riza surprises everyone (including herself), and the gang encounters a rather interesting equine.
~~~
DreamCatcher: Reflections is a fantasy adventure story told in the form of a series of kinetic novels–visual novels with a linear storyline and minimal "gameplay" elements. Reflections is a ground-up reboot of the long-running webcomic, DreamCatcher, and is heavily inspired by comics, isekai anime, and JRPGs. Chapters take an average of twenty minutes or so to play, but each features between 45 and 55 unique CG images, dozens of character sprite expressions, and of course, an ongoing narrative so you can look forward to the next episode!
You can check out our actual website at www.dreamcatcherreflections.com!
Want to know where I'm at with the next chapter? Check out DCR's devlog!
Download
Click download now to get access to the following files:
DreamCatcherReflectionsChapter5-1.0-mac.zip
279 MB
DreamCatcherReflectionsChapter5-1.0-pc.zip
296 MB
Comments
Log in with itch.io to leave a comment.
Will this be ported for Android in the future?
Probably not this version, but I'm working on a compilation of the first five chapters that I plan to take to Steam and would like to look into porting for mobile as well.